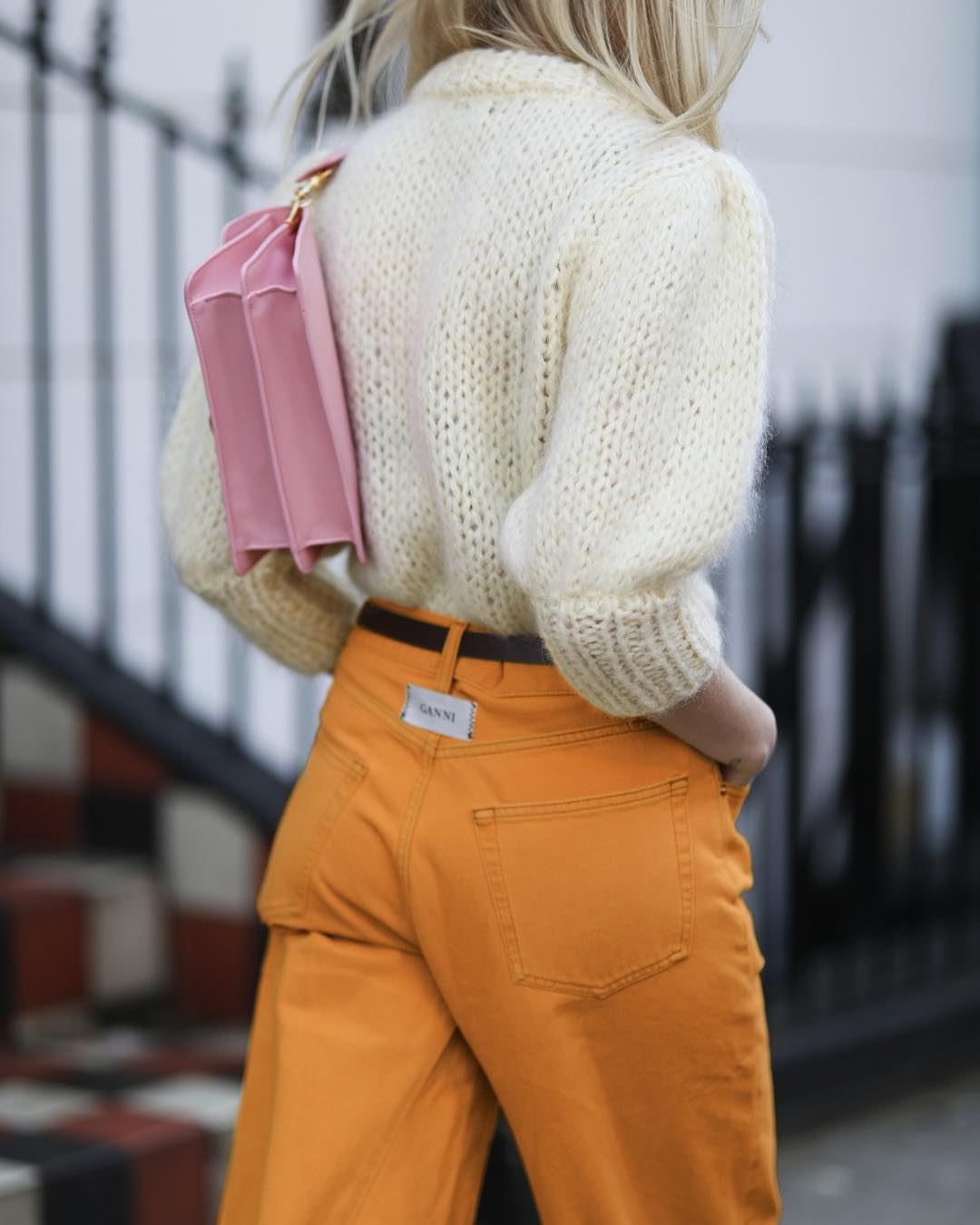 GANNI
ABOUT:
Founded in 2000 by Danish husband and wife duo; Ditte (creative director), and Nicolaj Reffstrup (sustainability visionary), Ganni is a favourite in the world of contemporary fashion and has risen to success with its brand values and Scandinavian Street style designs.
Ganni's approach is to create a world of community, confidence & responsibility.
 COMMUNITY:
Ganni has gained a loyal following and community of #GANNIGirls. 'The Ganni girl is a state of mind. She is a girl who is confident in her own skin and relaxed about fashion. She's not trying too hard, and that is obvious.'- Ditte. The brand is motivated and driven by the community they have created. Forever inspired by those who wear their designs, Ganni want to be all-inclusive to their fans, keeping them in the loop and ensuing they are part of the brand.
 'FROM THE PEOPLE WE COLLABORATE WITH TO THE CUSTOMERS THAT INSPIRE US, #GANNIGIRLS IS MORE THAN A HASHTAG, IT'S A COMMUNITY.'
CONFIDENCE:
With the typical Scandinavian style being very minimalistic and laid back, Ganni have managed to create a brand which embodies the effortless appeal, but also taps into trendy and playful features. However, the brand is about more than just a sense of style, but dressing for yourself and no one else, not fixating on identity, age or gender, and being the most confident version of yourself. A quarter of all Ganni collections are also available in extended sizing.
 Being considered as a luxury designer label, Ganni's prices are deemed attractive compared to many other high-end fashion brands. It's certainty more inviting to buy into the brand when you can maintain the appeal of luxury clothes as well as affordability. With its distinctive style and strong branding, in the past years Ganni has gained immense popularity among fashion lovers, its statement pieces, unique style and affordable prices are hard to resist!
'GANNI HAS ALWAYS BEEN A CELEBRATION OF CONFIDENCE. ITS ABOUT MAKING PEOPLE FEEL EVEN MORE COMFORTABLE IN THEIR OWN SKIN.'
RESPONSIBILITY:
As a brand, Ganni admit to not being completely sustainable due to the fact that 'fashion thrives on newness and consumption, which is a major contradiction to the concept of sustainability…. that's the honest truth'. Instead Ganni are focusing on becoming the most responsible version of themselves. For example, in 2021 they utilised 5,800 pieces of their dead stock waste for up-cycling projects. On Ganni's website, you can find a whole section under 'responsibility plan,' which informs you of how the brand are taking action, as well as their 'responsibility report,' displaying all of their achievements.
They also host a podcast 'Ganni talks,' where they catch up with friends and Ganni girls like; Camille Charriere and Vogue's first sustainability editor; Clare Press.
 '100% OF GANNI'S PLASTIC PACKAGING IS EITHER RECYCLED, REUSABLE OR RECYCABLE.'
Ganni can be recognised, with its attention to responsibility and ever-evolving feel-good clothes, as a brand leading us into the next age in fashion.
At Rebound we stock lots of Ganni in all different sizes… but it's always the first to sell!  Follow our Instagram account @rebound_store to stay notified of brand new incoming Ganni stock.