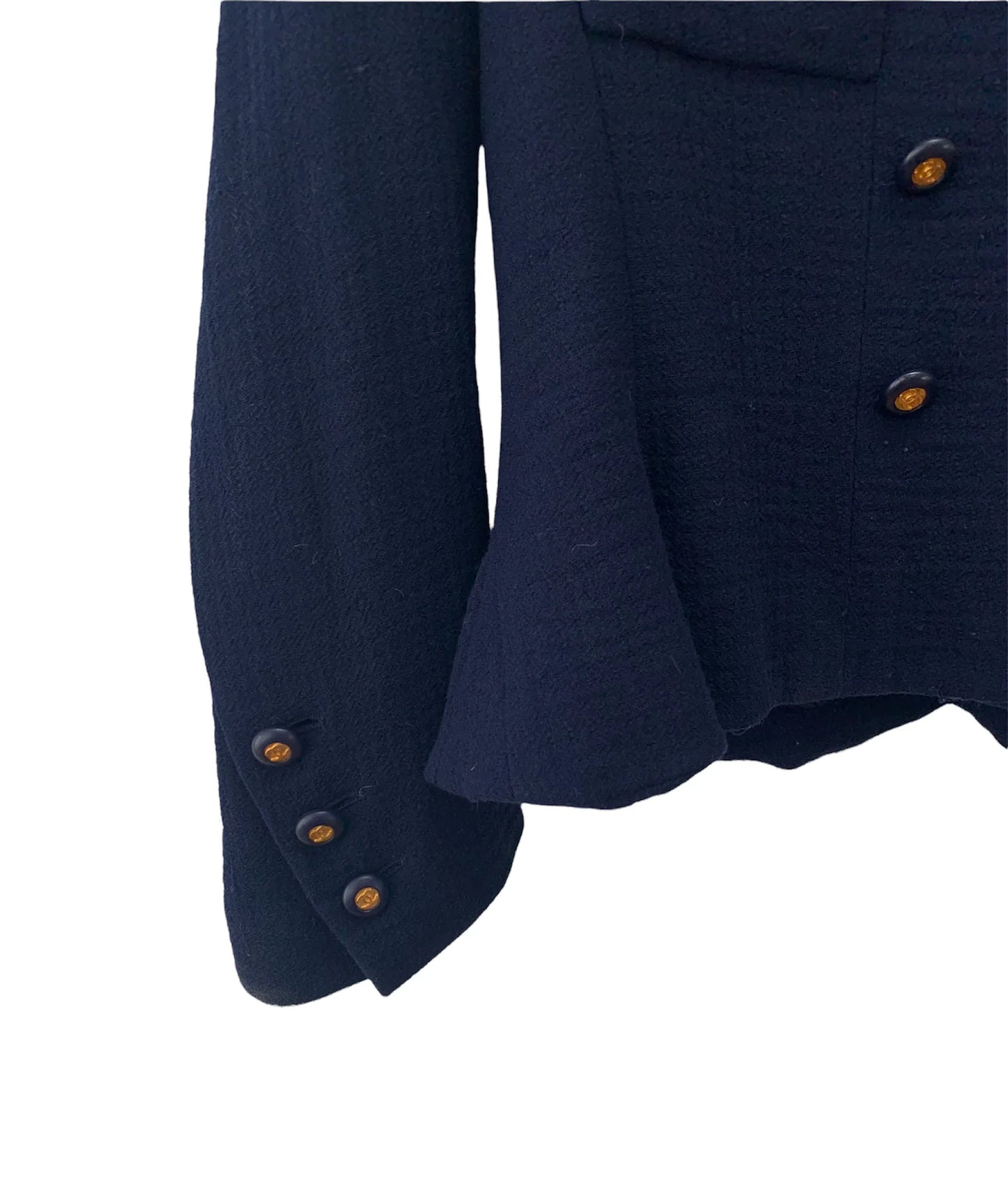 Chanel Jackets: Buttons, Trim & Lining, Chain
BUTTONS:
All buttons were made to be functional as well as decorative, often designed to look like jewellery. They will either show a CC-logo, the brandname, or another Chanel signature like a Camélia flower or a lion's head, which originated from her star sign; Leo. Today Chanel works with buttons that match the theme of the collection.
Most of the time they are attached at centre front for the jacket's fastening. Some jackets have a zip-closure or no fastening at all. If it does close with buttons, you will usually find three same-style buttons in a smaller version on the back of each sleeve. When the jacket has pockets, a button will be attached to it.
Every button is stamped with the symbol of the Chanel house, each button has to come with a buttonhole. Chanel ordered "Never a button without a buttonhole."
TRIM:
The Jackets are straight and structured with a single seam down the centre back. The sleeves have been slimly cut and set high on the shoulder optimising comfort, movement and practicality. The Lining mirrors this same construction as Chanel insisted "the inside should match the outside."
The overstitching of the lining ensured the inside of the jacket was just as elegant as the outside.  
The trims are placed gracefully on the tweed to delineate the continuity of the garment while emphasising its shape. 
You are able to detect via the trim (which is also called the braid), of the jacket whether it is by Chanel or not. A Chanel jacket has a contrast or ton sur ton trim that follows the neckline, down the front and all around the pockets, cuffs and hemline to accentuate its silhouette. 
The trim is also visible along the jacket's pockets and cuffs. 
 CHAIN:
One of the easily identified trademarks of a Chanel jacket is the gold chain stitched to the hem of the lining which is guaranteed a perfect hang. 
To weigh the jacket down and make it hang perfectly straight around the body at all time, Coco Chanel added a chain to the jacket's interior at the hem. Up untill today, almost all jackets feature a chain that colorwise matches the jacket's buttons. If the buttons show gold-tone details, then the chain will be gold as well. If the buttons are metal-colored, the chain will be in the same style
The chains are swen into the silk lining as the finishing touch to ensure a perfect fall. This was Chanel's secret to weighing down the jacket effortlessly.